Walking in Chios Castle is like time travel. Let's get lost in the narrow spiral alleys marked by history and time. Although in the city center, everything here is tranquil, while at the same time it is one of the most vibrant neighbourhoods of the city. Every time we walk around Chios Castle there is something new to discover.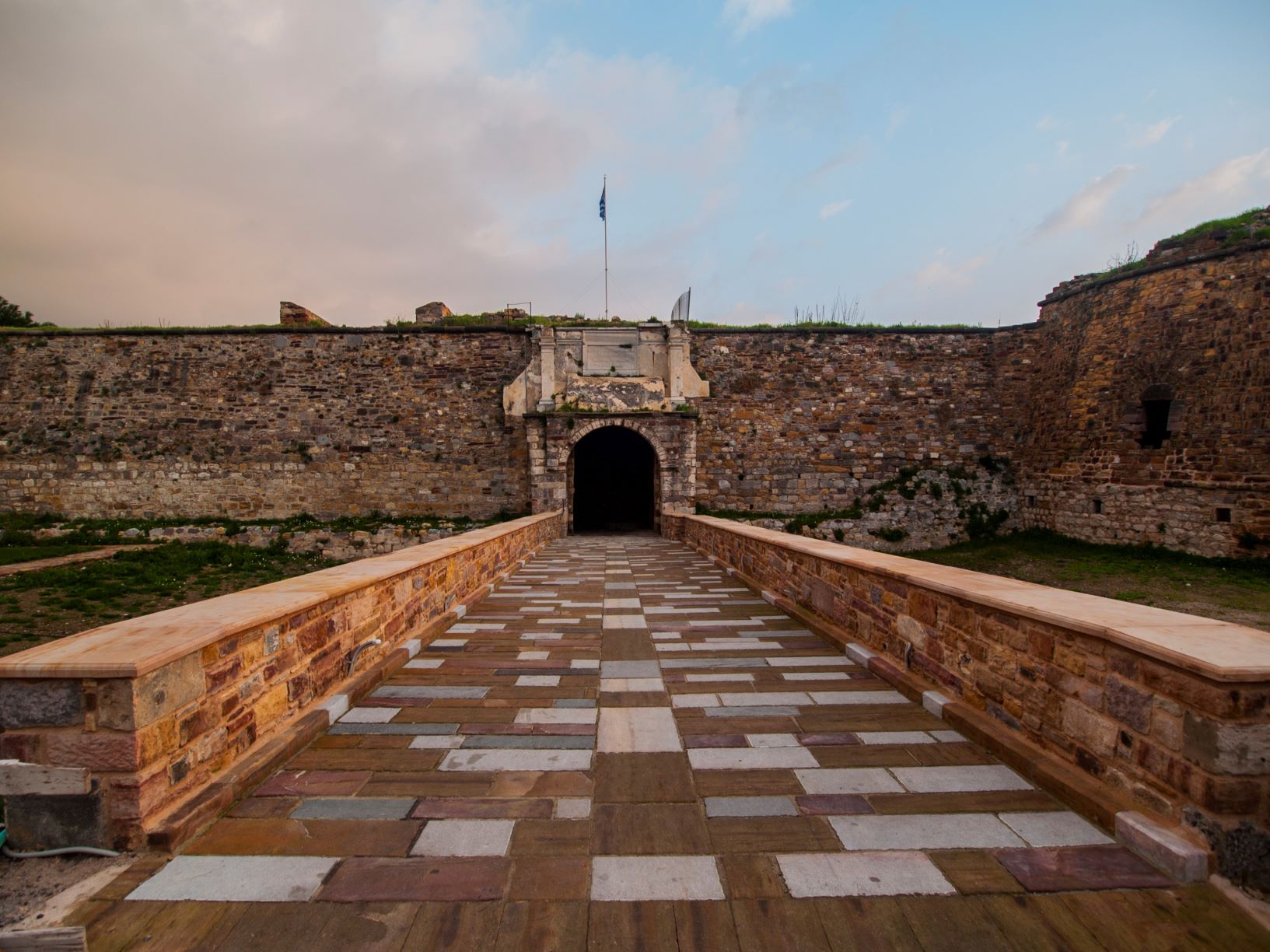 We enter the Castle via the Great Entrance at the south part of the castle. Also known as "Porta Maggiore", it is an example of the Italian influence on Chios island, as it was built by the Venetians in 1694.
Next to the Dark Dungeon, the Giustiniani palace was the headquarters of the Genovese administration. Today, after its renovation, it hosts periodical exhibitions by the Ephorate of Antiquities.
The Ottoman cemetery is located at the Castle square, where members of the Ottoman administration were buried between 1822 and 1890. Among other elaborate tombstones we can see the one dedicated to Captain Pasha Kara Ali, head of the Turkish navy, whose flagship was set on fire by Constantine Kanaris, at Chios port, in June 1822.
Bairakli Cami, the only surviving mosque in Chios Castle, was built at the beginning of the 20th century on the ruins of an older one. Walking on the main street, St. George is the central church of Chios Castle. It was built in 993 A.D. and during the ottoman times it operated as a mosque. The church's courtyard is shared with the building of the old ottoman school which has now been restored and serves as the offices of the Ephorate of Antiquities.
Our next stop is the group of the Ottoman Baths, also known as hammam. They were successfully restored in 2012 and have since become one of the most impressive buildings one can visit in the Castle. Cultural events and exhibitions are often held there. 
Walking on after the baths, we can walk up to the eastern Castle Seawall. We can enjoy the view of the Aegean and the island's east coastline. From this point, we can get a better sense of the size and shape of the castle as well as experiencing walking on the walls of one of the few castles of Greece that has retained its original seaside character.
Back to the Castle square, we can enjoy our coffee or drink at one of the cafes. In the streets of the Castle, we discover the traditional taverns to relax with a couple of local meze and ouzo – admittedly the best way to end this beautiful day at Chios Castle.
Read more...