Do you know which sweet the Chians offer as a gift when visiting their friends living outside of Chios? Massourakia! They are delicious, made with a traditional recipe of Chios and mashed mastiha and almond. On your next visit to Chios, do not miss visiting a patisserie in order to try them out. If you still can not wait until then, we recommend a recipe to make them.
Ingredients
1 pack of Phyllo pastry, 150 g of cow butter
For stuffing
400 g sweet Chios mastic (submarine), 500 grams of almonds, zest mandarin or lemon, 2 egg whites, 1 pinch of salt
For the syrup
200 g of sugar, 200 g of water, lemon peel, 1 tsp lemon juice, 2 tablespoons of flowering water
For serving
Icing sugar, ground almonds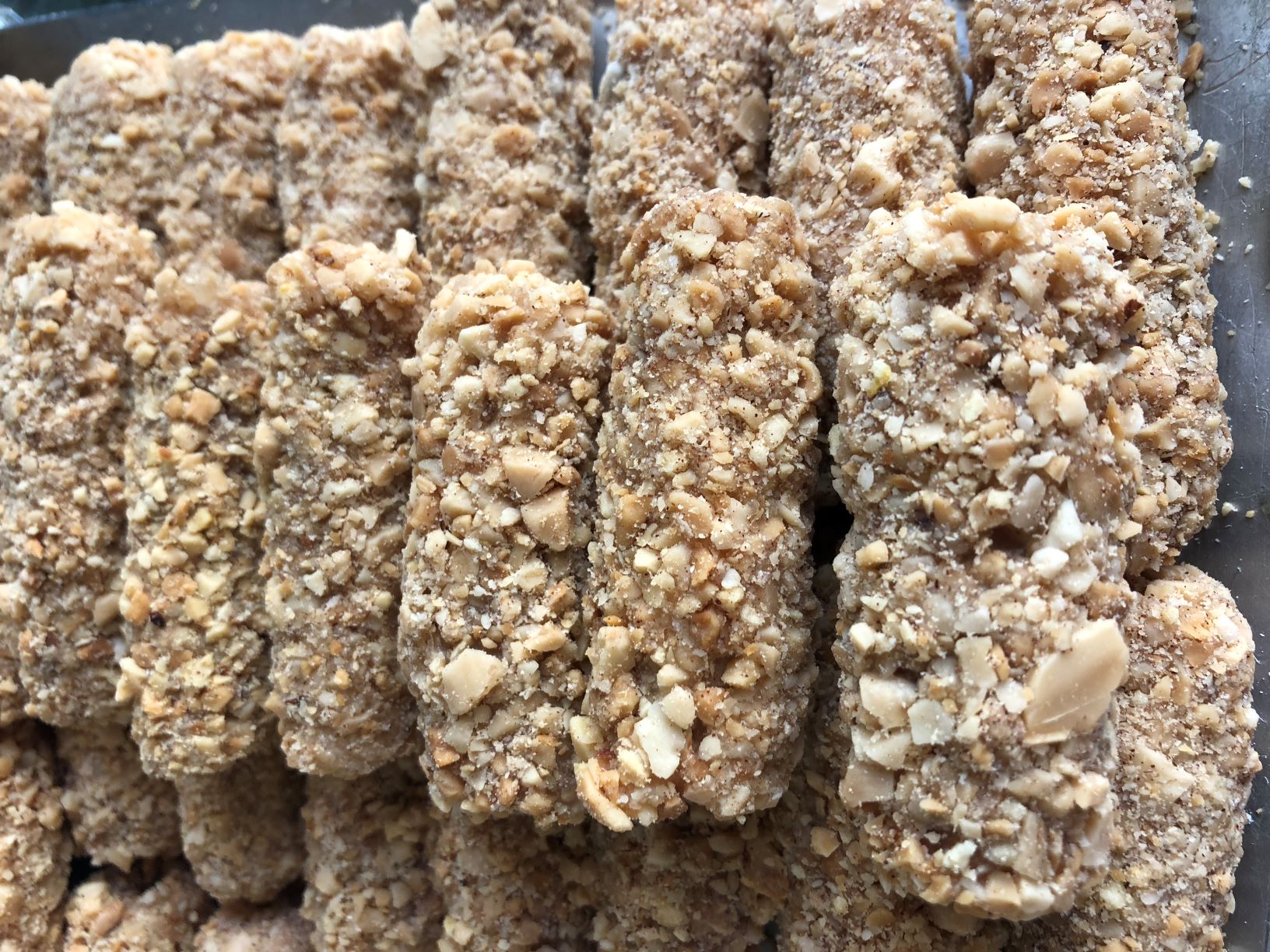 First grind the whitened almonds until they are finely chopped and not completely powdered and put in a bowl. In a bain marie, gently melt the Chios mastic preserve, dilute some of its texture so that you can mix it well with the rest of the ingredients. Pour it into the finely chopped almonds and zests. Stir the materials with a spoon. Beat the egg whites and the salt in a soft meringue, until peaks are formed. Gradually pour the meringue into the almonds and with a soft spatula add the other ingredients. Open the leaves on the counter, cut them in 4 pieces and cover them with a fresh towel to avoid drying. Get a square piece of phyllo and coat with melted butter, then put another phyllo on top of it. Fill in along with a little stuffing patterned like a thin cord (here can help the confectionary crown). Close the sides to seal the filling. Wrap in a tight roll. Preheat the oven to 160 degrees C. Butter plate a baking pan and place your massourakia. Coat  them with as much butter as possible. Bake for about 35-40 minutes until golden brown. Prepare the syrup and keep it  warm. Once we've lowered the syrup from the heat, add the rose water, and mix. After the masks are roasted and the rosin is started, we put them all in a baking dish, they are close to each other and there are no gaps between them. As they are removed from the oven, pour them a little with the hot syrup. Let them cool all in the pan and drink their syrup well. After they cool down, we roll them to ground almond to clothe them or crack them with powdered sugar Good luck!
Read more...